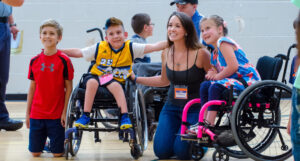 We love our volunteers!  They help us with all aspects of bringing music to the children, from greeters at performances, to local coordinators that bring projects to life.  There's lots to do, and it's extremely rewarding.
You can be any of the following, or, if you don't see something, but have an idea – just message us! We love to collaborate.
Organizational Volunteers
Grant Writer.  Help us tell our story to other non-profit foundations.
Sponsorship Development. Corporations
Marketing assistance. Everything from brochures, to blogs to website assistance.
CRM Development. Keeping track of all of the great people around Chase the Music – our Constituent Relationship Manager is very important to our success.
Legal Work. As we grow, we want to ensure that we follow all the rules.
MORE! And of course – there's so much more. Feel free to reach out, tell us your talent, and we'll see where we can work together.
Event Volunteers
Production Coordinator (my favorite job!). You are responsible for putting together all the pieces of the puzzle (child, composer, performers, venue, audience and MAGIC!) to create a beautiful Chase the Music gift.
Photographer. Not all of our events can be photographed, but, we love it when we get great shots.
Videographer. Come shoot and make the Chase the Music event last forever.
Event Host. Our hosts are assigned to a family, and are responsible for making sure their needs are met. Our kiddos are really special, and this most important job makes sure that they are happy and comfortable at thier event.
Artist Talent. Do you sing, play, dance, write? Join in 
Volunteer with Chase the Music!