\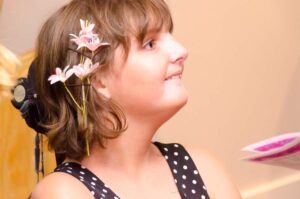 Beautiful Kati!
Kati was diagnosed with ataxia-telangiectasia (A-T), a rare neurodegenerative disease, when she was only 2 years old. Then, in June of 2012, Kati was diagnosed with Large B Cell Lymphoma. She underwent treatment for 4 months and is now cancer free. She continues to manage her A-T with the help of her friends and family. Kati is now in a wheelchair which helps her conserve energy and gives her independence.
Kati is a fearless but shy 12 year old who enjoys skiing at Winter Park, horseback riding, swimming and adaptive soccer. She came to Chase the Music through the recommendation of a friend, Molly Niven.  Molly noticed of her cheerful disposition and love of music. The family enjoys the support of their faith, friends and warm community.
Composer: Nick Halsey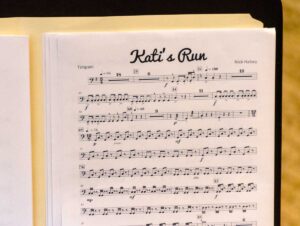 Nick Halsey is a student at the University of Southern California, where he's studying Civil Engineering, Architecture, and Music Composition. He's also a WordPress core contributor. In Summer 2014, he was one of WordPress' Google Summer of Code students.  He is an avid cellist, trumpeter and composer/arranger. Nick is the Resident Composer for the Boulder Cello Project, and is always adding to his free cello ensemble sheet music library.
Most of Nick's projects are on his main website: Cello Expressions.
"Kati's Run" was motivated by Kati's love for being out on the slopes skiing in her sit-ski.  It expresses the exhilaration of being out on the slopes, interspersing gentle easy turns, with more difficult and exciting pitches.
Nick also composed "Many Trails" for Chase the Music – performed for our friend Chito, during the summer of 2013.
Performers: The Boulder Cello Project, and friends
The Boulder Cello Project is an organization committed to supporting Colorado cellists by providing a non-competitive friendly place to practice, learn and share knowledge of music and the art of cello playing.  They also provide workshops taught by expert instructors for all levels and abilities.
The project collaborates with local and national composers to create music that is accessible to both beginners and advanced players, and also strives to create pieces to showcase the cello's versatility by playing music not generally associated with cello (such as jazz, rock, alternative, etc.) to inspire their members and audience to learn more about playing the cello or another musical instrument. Their goal is to foster a stronger and more diverse community of musicians by providing music education in different genres to create more knowledgeable cellists who are able to play with other musicians in non-classical genres.
In addition, the Boulder Cello Project strives to inform and entertain their members and audiences by providing unique musical experiences.  They collaborate with other artists and musicians in their area, and will also be giving back to their community by performing for retirement communities and other non-profit organizations.
Venue: eTown, Boulder, CO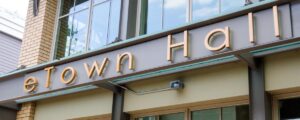 eTown is a non-profit organization with a mission to educate, entertain and inspire a diverse audience through music and conversation to create a socially responsible and environmentally sustainable world. The organization was founded in 1991.
eTown is a place where music brings us all together and we work (and play) together to make things better.  eTown is also an independent radio program that seamlessly blends great live music from top musicians with conversation about the health and welfare of our communities. eTown has been on the air from coast to coast for more than two decades. Their shows are recorded in front of a live audience, usually in eTown's own solar powered theater, eTown Hall, in downtown Boulder, Colorado.
---
Click here, for a copy of the program.
See the conductor's notes, download the score and more – here.
Pictures of the performance.